Technical Information (MGA 10)

AN INTRODUCTION TO COMPOSITE LEAF SPRINGS (1)

Last Updated 07/18/01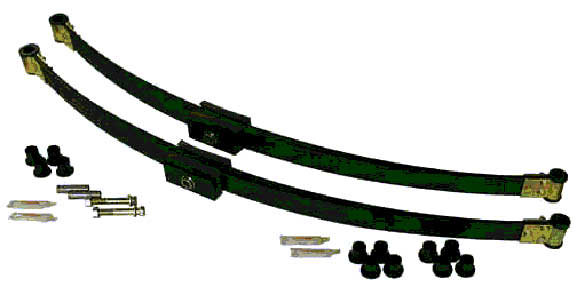 There are numerous reasons why these types of springs are being used more frequently as a replacement for steel leaf springs. One of the most advantageous reasons for considering their use over steel is their weight. A steel leaf spring, as fitted to the MGA, weighs approximately 20lbs, on the other hand, the replacement composite leaf spring, using fiberglass reinforcement in an epoxy matrix, weighs approximately 5lbs. Other advantages are as follows:

Reduced contribution to unsprung weight...

Smoother ride when compared with a comparable steel spring rate, therefore allowing increased spring #'s where necessary...

Material properties of the composite spring allow rapid response to induced or released stresses, which in turn allows better compliance with the road surface...

Absorbs more of the road shock...

No interleaf friction...

No sagging or setting...

Superior fatigue strength over steel...

Reduced rear wheel bump steer...

Excellent corrosion resistance...

"Fail safe" capabilities...

No lateral reset due to torque steer...

Superior handling...

These composite springs are tested to just beyond their "flat condition", spring #'s are recorded for every inch of this deflection and an average spring # established. According to the manufacturer, there is very little variation in spring #'s throughout the total deflection.

With the regular steel spring manufacturing process, there is a tolerance factor in the spring rate. This is also true during the composite spring molding process with a variable allowance of + or - 15 lb./in; this, however, should not present a problem. The most important point to remember is that both springs will be matched for spring rates and sold as a pair.

Composite springs, with their rapid response to induced and released stresses, will benefit from the fitment gas of charged telescopic shock absorbers.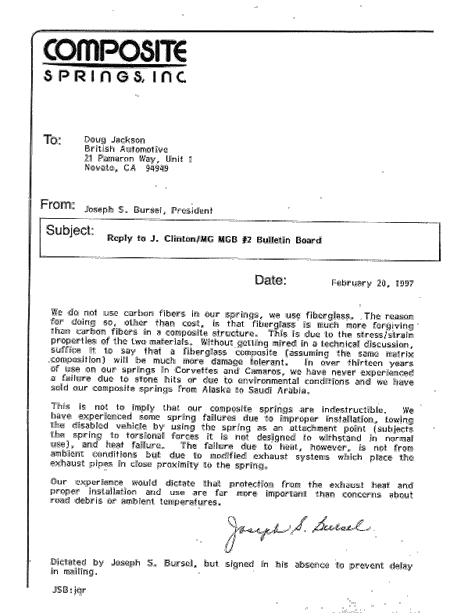 1. An Introduction to Composite Leaf Springs
2. MGA Vehicle Weights and Ride Heights
3. Telescopic Shock Absorbers