Technical Information (MGA 5)

Disc Brake Modification for the MGA1500
Last Modified - 4/4/00
Front drum brakes on the MGA can be updated to discs by using new or used MGB disc brake and suspension components.
Shock Absorbers
The OEM shock absorbers must be replaced with the MGB type. We looked into the possibility of modifying the OEM shock absorber and concluded that the machining costs would be far to expensive to justify their installation.
The MGB mounting bolt center to center pattern is reversed, (MGA 2.75" rear and 2.875" front. MGB 2.875" front and 2.75" rear), therefore, it will be necessary to mill or elongate the existing mounting holes on the MGB shock absorber to match those of the MGA.
Remove the OEM mounting studs and replace with 3/8" x 1.25"USS grade 8 bolts with both plain washers and lockwashers.
To allow for upper shock absorber clearance, trim the inner sheet metal panel directly above the shock absorber. Also, due to potential interference problems on the left shock absorber, be sure that the front shock absorber arm pinch bolt in installed in the upward position; i.e., inserted from the bottom.
Bump Stops
Remove and discard your OEM bump/rebound stop assembly, however retain the aluminum spacer. Fabricate upper support plates as shown. Attach each plate to the MGB bump/rebound stop assemblies, then mount, along with the aluminum spacers, to the cross-member structure. Weld the new upper support plates into position.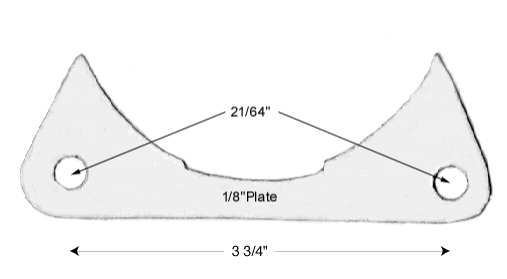 Tie Rods
Retain the MGA style tie rod ends. To allow for correct wheel alignment "toe" adjustment it will be necessary to carry out the following:
Using the MGA workshop manual (OEM part # AKD6000 or Moss part # 212-410) as a reference, remove steering rack boots and both tie rod assemblies, complete with ball housing, shorten the tie rods by 1/2" and rethread 5/8" x 18TPI to a depth of 1". Reassemble to the rack, use new locktabs, then reinstall rack boots. Continue with wheel alignment. Always make sure that the rack has sufficient 90W lubricant.
Wishbone Arms
You can retain your OEM wishbone arms and spring pan assemblies. However, if you intend fitting a sway bar, (highly recommended), then the MGB L/H and R/H front wishbones, along with MGB spring pans, will have to be used. Use split polyurethane inner "A" arm bushes.
Swivel Axles
Use the MGB swivel axles complete with upper trunnions, steering arms and king pin assemblies. Now would be the ideal time to install new king pins and bushes. For positive location use nylatron upper trunnion bushings.
Front Hubs
Use MGB disc or wire wheel hubs complete with bearings and associated hardware. If you are retaining your OEM wire wheels with the fine threaded "Knock Offs", then be sure to install the early style wire wheel hubs with the original split grease retaining cup, (no longer available new). Later style course threaded hubs have a better designed retaining cup and would have to match with the appropriate course threaded "Knock Offs"
Brake Hoses
MGA brake hoses can be retained or substituted with recommended stainless steel type part # 182-218.
Brake Calipers
Use good or rebuilt MGB brake calipers.
Brake Rotors and Pads
Use the standard MGB brake rotor or British Automotive's directional grooved type. Use MGBGTV8 brake pads.
Wheel Alignment
Changes to "Toe" can be made in the normal manner. Castor angle changes can be accomplished by making shims and then installing them between the fulcrum pivot mounting flange and the crossmember structure. To increase the castor angle install shims under the rear mounting flange or at the front to decrease the castor angle. Camber angle changes can be made by slotting the shock absorber mounting holes or if only small changes are required, use British Automotive's offset upper trunnion bushes (part# 8G621/NEG) which give an adjustment of approximately + or - 1/2 degree.


Alignment Specifications
MGA
MGB *
Toe
Parallel
1/16" to 3/32"
Camber
+1 Deg. to -1/2 Deg.
(Full Bump)
+1.25 Deg. to -1/4 Deg.
Caster
4 Deg.
5 Deg. To 7.25 Deg.
*Vehicle Unladen